We are pleased to announce the following appointments to Jet Zero Australia, strengthening the team as we prepare to move into Front End Engineering and Design (FEED) and manage our SAF business' significant growth. The new appointments include:
Rick Koumouris as Board Advisor
Andy Fielding as Senior Project Manager
Adam Douglas as Industrial Consultant
Michael Pope as Technical Consultant.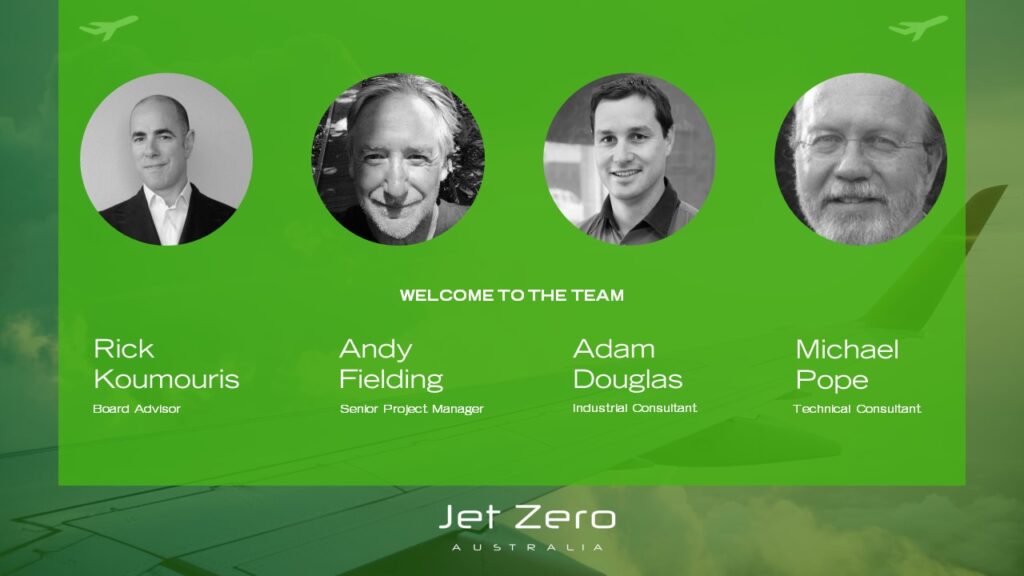 Rick Koumouris has joined as Board Advisor having spent most of his career in North America managing projects for Fluor Corp, a leading multibillion dollar engineering contractor. He has had a distinguished career in engineering and project management and importantly has worked on tough multibillion dollar new technology projects (such as the first High Pressure Acid Leach Project in Australia). He is currently a senior advisor to Boston Consulting Company, a Qantas Coalition Member, and will be assisting the board and Project Manager with decisions in relation to project development during FEED.
Andy Fielding has joined as Project Manager. Andy is a highly experienced and respected Senior Project Manager having spent 21 years at Woodside Energy managing projects from concept development and analysis, through to project execution management with budgets in excess of AUD$2 billion. Andy was considered one of Woodside's star project managers, most notably delivering the Greater Western Flank 2 (GWF2) Project 35% under its $3 billion dollar budget and 12 months ahead of schedule. Andy will be responsible for managing the delivery of Project Ulysses from FEED through to construction.
Adam Douglas has spent the past 10 years at Wilmar, where he held a role as Regional Operations Manager, in managing the Macknade and Victoria sugar mills, with Victoria Australia's single largest sugar milling operation. Adam with our senior industrial advisor Doug Sockhill, has been instrumental in shaping the strategy around an upstream industrial portfolio and growing ethanol feedstock. He is a mechanical engineer by background and is based in Townsville.
Michael Pope is a chemical engineer and a 38-year career professional with Shell having spent 19 years in refinery technology and operations and 19 years in strategic advisory services. He was most recently involved in SAF HEFA projects at refineries at Shell Pernis (greenfield) and Rheinland (gasoil hydrotreater conversion) and helped lead Shell's global R&D efforts in SAF.
We are extremely excited to have such experienced and highly regarded industry experts join Jet Zero Australia at such a pivotal time.
We are pioneering a new industry in Australia that has a purpose and appeal to many people outside the SAF industry, including those from leading oil and gas and sugar milling companies.
We welcome the new additions to the senior leadership team.